ELYSIAN writer Abby Deering, born and raised in England, shares some of the very best countryside escapes to visit this spring.
The Countryside in England – "Oh, to be in England, Now that April's there." So starts Robert Browning's poem "Home -Thoughts from Abroad," an ode to his motherland in springtime, a sylvan wonderland replete with"orchards, dewdrops and blossomed pear trees."
While London is often considered the crown jewel of the British Isles, something quintessentially English awaits in the surrounding countryside. Within a mere two hours drive of the city are many exquisite manors and charming cottages beckoning for a weekend retreat. ELYSIAN shares some of the very best places to stay.
Sissinghurst Castle Farmhouse and Sissinghurst Castle Gardens
In county Kent, an area known as the "The Garden of England," lies the world-famous Sissinghurst Castle Gardens. Now maintained by The National Trust, Sissinghurst was previously owned by poet and writer Vita Sackville-West and husband Harold Nicholson, author and diplomat.
Sackville-West and Nicholson undertook designing the garden by creating what would become a prime example of the Arts and Crafts style. The garden is, in essence, a series of rooms formed by high-clipped hedges and pink brick walls. Each has its own theme and character, and through windows — either a 'cut' in a wall or a 'slice' through a hedge — offers a glimpse into another area.
On Sissinghurst grounds, a handsome Victorian farmhouse was transformed in 2009 into a luxury bed and breakfast in the countryside in England. Bedrooms offer sweeping views across the estate and towards the castle's 16th-century Elizabethan tower.
Cliveden
Cliveden House, a five-star luxury hotel less than 45 minutes drive from London, was originally built in 1666 by the Duke of Birmingham as a symbol of his love for his mistress the Countess of Shrewsbury.
The Duke had just emerged victorious from a duel with the Countess' husband who was wounded and later died. Since that time, Cliveden, a popular haunt for the rich, famous and royal, has remained a place steeped in a fantastically English brand of intrigue and scandal.
Frequent houseguest Queen Victoria was famously "not amused" when the then-owner, the Duke of Westminster, decided to sell Cliveden to American millionaire Waldorf Astor and his wife Lady Nancy Astor (who became the first woman to take a seat in parliament in 1919 until her retirement in 1945).
The Astors continued the tradition of hosting illustrious guests including Winston Churchill, President Roosevelt, The Beatles, Charlie Chaplin, and Ghandi.
Today, this stately getaway, surrounded by 376 acres of National Trust gardens and with panoramic views over the Berkshire countryside and the River Thames, pays homage to its predecessors by naming each room after a prominent guest from its past. Cliveden truly is a place where one thinks "if only these walls could talk."
The Astors continued the tradition of hosting illustrious guests, including Winston Churchill, President Roosevelt, The Beatles and Ghandi.
Graveyte Manor
Gravetye Manor, a 16th-century estate turned country hotel, was originally built by Richard Infield for his bride Katharine. The initials "R" and "K" can still be seen carved in the stone over the main entrance. Later, Gravetye was owned by William Robinson, known as the father of the English flower garden. It was at this property that Robinson realized his naturalistic and revolutionary "wild garden" concept spurring a movement that popularized the cottage garden.
Current owner Jeremy Hosking has faithfully maintained Robinson's vision, restoring the gardens to their former glory after a period of neglect. When not strolling about the grounds, some of the most influential in English history, guests at Gravetye may take part in deer stalking, riding the Bluebell railway, or simply curling up on a leather Chesterfield in front of a roaring fire following a spot of afternoon tea.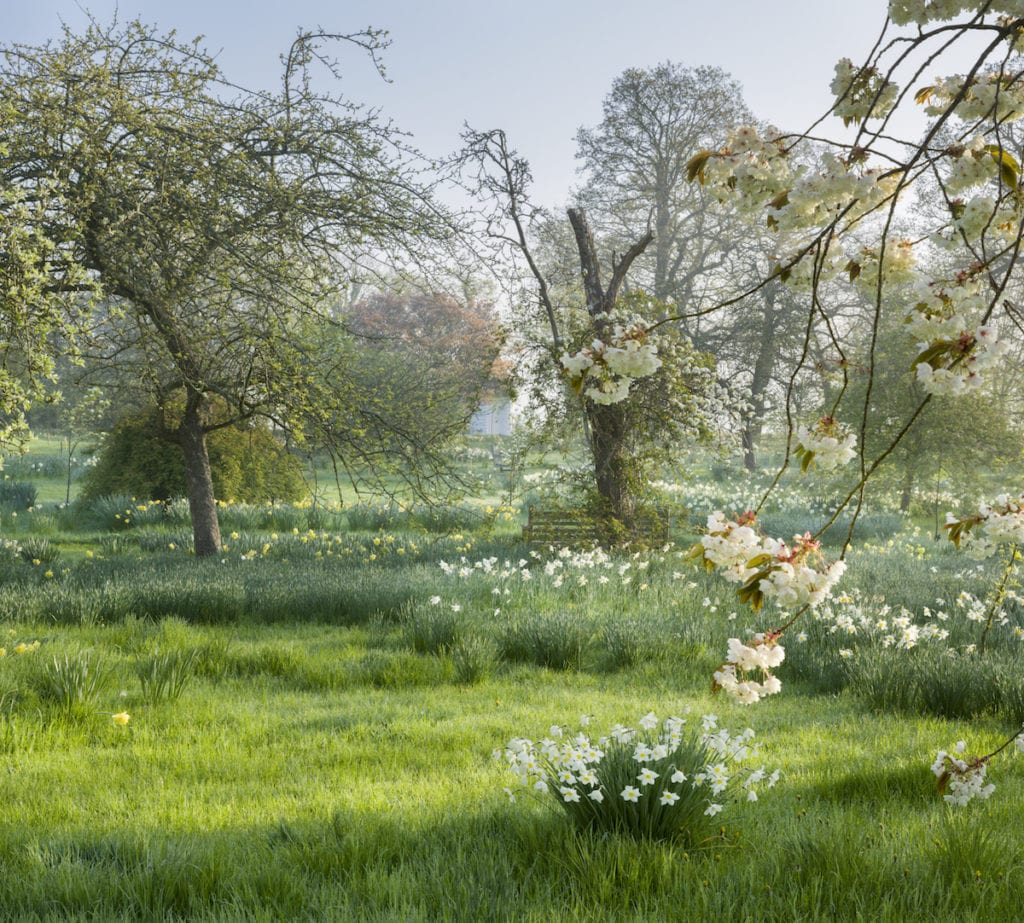 The Orchard in April at Sissinghurst Castle Garden, Kent. © National Trust Images / Andrew Butler
Babington House
Babington House may well be Britain's original trendy country house retreat. The small boutique hotel was the first countryside property from the uber-cool Soho House Group. The Group has since added the Soho Farmhouse in Oxfordshire, which has fast become the destination for London's jet-set young creatives.
However, the scales may tip in favor of Babington House, a grand Georgian home, due to its proximity to Hauser and Wirth Somerset, a contemporary art complex that The Guardian suggests may be "the new Guggenheim." (Good rule of thumb: if there's an internationally lauded art institution in an unexpected rural area, go.) To make a day of it, close by is Alchemy, an antique shop housed in a former garage, a favorite among British interior designers.
The Swan
The Swan sits on the banks of the River Coln in Bibury, a picturesque Cotswold village once described by famed English textile designer William Morris as the most beautiful in the countryside in England. The Cotswolds, officially designated as an Area of Outstanding Natural Beauty, is known worldwide for its historic stone-built villages. The Swan is a creeper-clad, romantic inn with low-beamed rooms, flamboyant prints and wallpapers, and cozy dens. A walk across an ancient stone bridge brings you to the town of Arlington with its celebrated row of 14th-century weaver's cottages.
Lucknam Park + The Pig-near Bath
At the end of a long, tree-lined drive set within a 500-acre estate sits Lucknam Park. The Palladian mansion-turned-hotel, just outside the city of Bath, is perhaps best known for its equestrian center and spa offerings, including a Japanese salt room. The hotel is home to Michelin-starred restaurant The Park, but for a true gastronomic experience stay at The Pig – near Bath. The Pig hotels often referred to as "restaurants with rooms," are a new English chain guided by the gardener, forager, and chef at each.
Sibton Park Manor House
Sibton Park Manor House, a Georgian estate, and The Moat House, a Tudor farmhouse with its very own footbridge, are grand homes available to rent within the Downtown Abbey-esque Wilderness Reserve. These homes are two-and-half hours from London and thus, fall outside the purview of this list, but they are worthy of mention and worth the extra half hour drive on the roads of the countryside in England.
By Abby Deering